Welcome!
Today I am sharing a new inspiration suitable to the season. Live summer feelings on the beach with roaring sea waves, salty healthy air and long walks on the beach until sunset.

Seems someone is having a longing for the sea. ;)
Shelf in shabby chic look
When I saw the amazing corner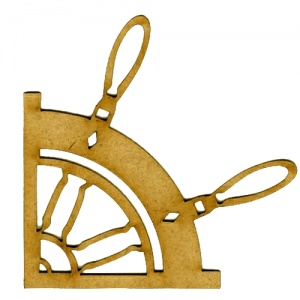 I thought this was a perfect right angle with two support surfaces, which could well function as a shelf.
I used two corners from the smallest size and a
With the help of wood glue it was attached as shown in the picture above, the label underneath was initially intended to serve as additional stabilisation,
but as I found out later, there was no need.
Calico Craft Parts used:
The sun will come!
... and with it the sunshine :-)
Can you spot the difference???
The resolution will be clarified in my next project :-)
Thanks for your visit!
Happy summer time!
Kerstin