Hi and welcome to a really quick and easy little project today!
I would like to show you how to build your own mini greenhouse from
Calico Craft Parts
' beautiful
Window
and
Iron & Wood Fence Panel
Shapes.
I especially fell in love with the beautiful Gothic style window Helen included as a little extra with one of my DT orders (thank you so much, Helen. Mwah! XXX).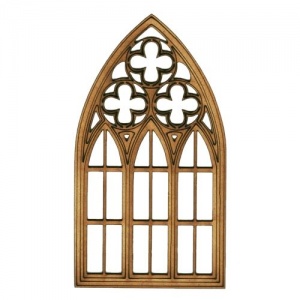 It pretty sure it is a fantastic piece to include with scrapbooking or art journaling - but as I am no scrapbooker at all (and don't do a lot of art journaling either), I had it sit on my table for quite a while until I suddenly knew what I wanted to use this beauty for. I just knew that I LOVED it and HAD to use it in some way! The perfect idea finally hit me right out of the blue (as is often the case. I use to have alterable and other craft pieces sitting on my desk so I can look at them until inspiration strikes - - and most of the time it strikes when I am NOT trying hard to come up with something truly inspired....lol).
So I ordered an additional
Style 3 Window
(the largest size) and also four
Decorative Post Fence Panels
(the small sized ones) to build my greenhouse with.
I had left overs of an old roll of transparent "mobile foil" (mobile not as in "mobile phone".... you know...balancing bits and pieces hanged on bars that hang on other bars with balancing bits and pieces...) that were perfect for covering the greenhouse with. I simply measured along the window's edge from top to bottom and multiplied that by two to get the length of the foil strip I needed.
The width of my greenhouse equalled the width of two post fence panels. All I had to do is cut out my rectangle piece of mobile foil and fold it in half (which would form the roof ridge). I used a bone folder to get an exact folded edge.
Using my fingertip I covered both sides of all my wood shapes with DecoArt Black Shimmer Metallic Lustre.
For a bit of a corroded look I added tiny black spreckles of Carbon Black DecoArt media Mister by pressing down my Mister's nozzle only halfway (which creates tiny spreckles instead of an even mist).
I just love how the Metallic Lustres create the impression of real metal!
To glue the fence panels to the foil I used (very little) DecoArt media Liquid Glass, so the backs of the fence panels and windows would still be visible from the other side (through the glued on foil).
I used heavy books to keep everything flat and in place while the Liquid Glass dried and waited until one side of my greenhouse had dried before I continued with the other. Both window shapes were glued in place at the same time and held in place with heavy books and dictionaries.
Et voilá!
Quick and easy, right?
I hope you like it!
Hugs and happy crafting!
Claudia
xxx